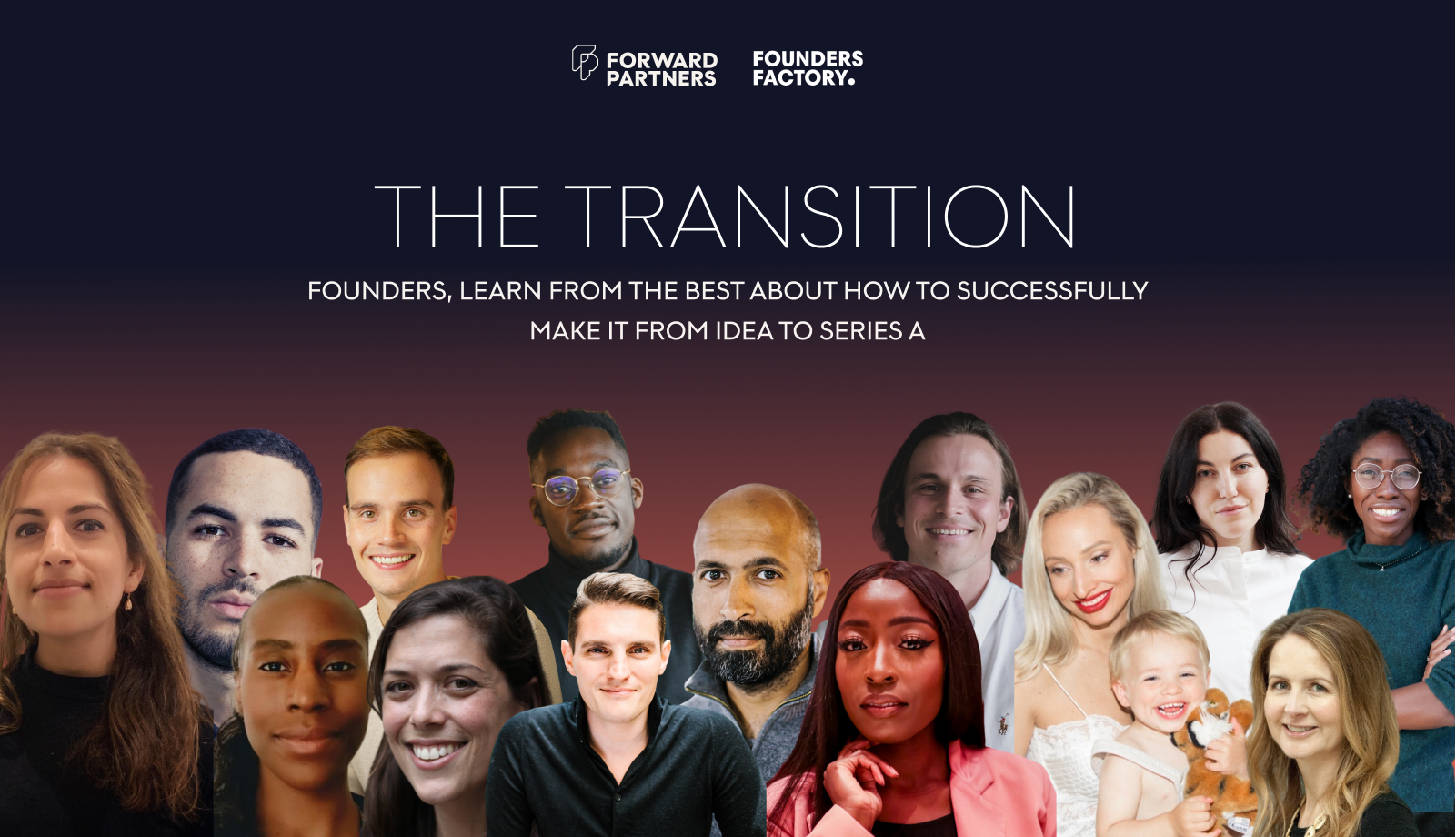 The Transition is a free 3-part webinar series that brings together investors, operators and founders to discuss the hardest parts of early-stage company building - idea through Series A.

TOMORROW

THURSDAY JULY 16TH | 12 - 1.30PM
Making The Leap From Executor To Manager
---
THE PANELLISTS

Luzana Costa, Platform Manager @ Balderton Capital
Tristan Thomas, VP Marketing @ Monzo
Thomas Hanks, VP Sales @ Drover
Rachel Carrell, CEO and Founder @ Koru Kids
Temi Lasade-Anderson, Digital Strategist and Digital Rights Consultant
WHAT YOU'LL LEARN

The biggest pitfalls that you can fall into when transitioning from executor to managerThe mindset required to successfully make the transitionTools you can use to excel in your early days as a managerReal-life insights about the successes and failures of our panellists and their journeysHow effectively making the transition can supercharge your startup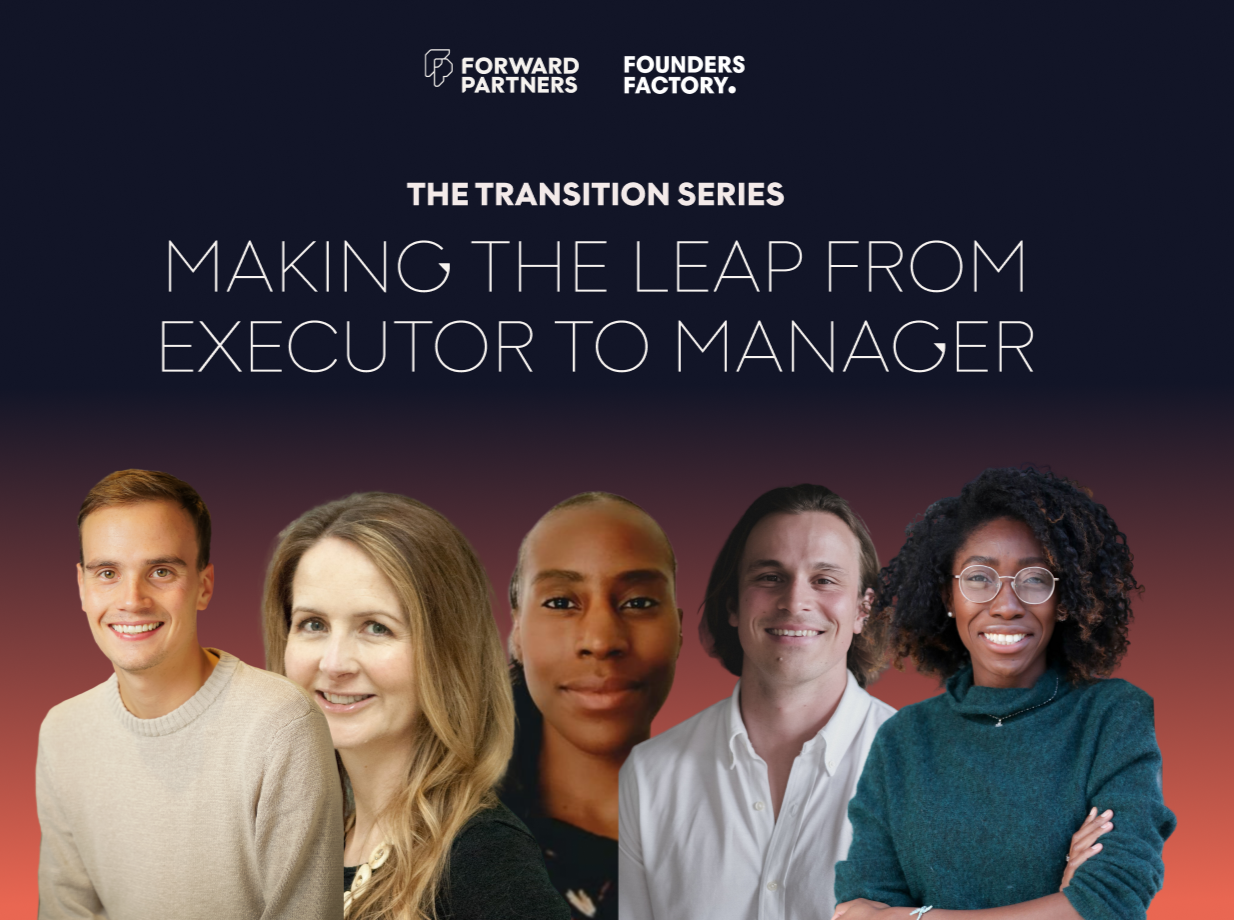 WEDNESDAY JULY 22ND | 4.30 - 6PM
The Formula For Getting From Seed To Series A
THE PANELLISTS

Matthew Bradley, Partner @ Forward Partners
Ross Bailey, CEO and Co-Founder @ Appear Here
Yvonne Bajela, Founding Member and Principal @ Impact X
Sasha Astafyeva, Investment Partner @ Atomico
Gauthier Van Malderen, CEO and Founder @ Perlego
---
WHAT YOU'LL LEARN

The ultimate north-star founders should keep in sight when on the road to Series AWhat warning signs exist at seed-stage that could jeopardise a Series A raiseHow to mobilise your startup team efficiently when gearing up for growth
...and more
TUESDAY JULY 7TH | 4.30 - 6PM
How To Get Your Business Idea Venture-Ready
---
THE PANELLISTS

Dharmesh Raithatha, Investor @ Forward Partners
Saloni Bhojwani, Investor @ Founders Factory
Ella Goldner, Co-founder @ Zinc VC
Rich Serunjogi, CEO and Co-Founder @ Business Score
Molly Hart, CEO and Founder @ HIGHR Collective
WHAT YOU'LL LEARN
The fundamental strengths that early-stage investors look for in idea-stage foundersThe importance of building investor relationships before you're ready to fundraiseWhat to do, and what not to do when you start your fundraising processThe ins and outs of what matters when validating your early ideas

Forward Partners is an early-stage venture fund meets startup studio. We've invested in 55+ companies including Patch, Appear Here, Koru Kids, from our £81m early-stage funds - focused primarily on Applied AI, Marketplaces and E-Commerce. Instead of simply providing advice, we have an in-house team of accomplished marketers, developers, designers, recruiters and product managers that are dedicated to helping founders practically build and scale their businesses, and accelerate their success. Our companies are 4x more likely to reach Series A, with a 55% higher valuation, 26% faster and with founder equity 2.3x more valuable than their peers.

Founders Factory powers founders to go further, faster. We're a diverse and entrepreneurial team, who partner with the world's best founders and corporates to build, fund and scale ambitious startups worldwide. We're live in London, New York, Paris and Johannesburg.
Text